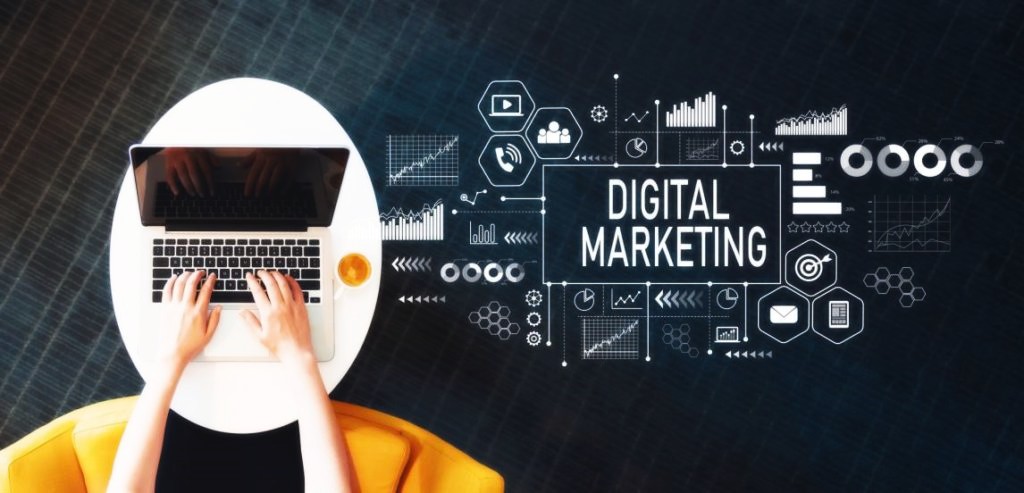 What about digital marketing?
About 80% of all the information we get today from digital platforms. Huge engagement on the internet and digital media created a modern marketing trend called Digital Marketing. We are well noticed that the future of business growth completely depends on internet marketing.
Digital marketing is the most common online marketing concept and has many advantages over conventional offline marketing. Through the aid of the internet and mobile apps, consumers can now access information from anywhere in the world. Marketers use digital techniques to target and convert online viewers.
Such new-age marketing strategies help to build good credibility, which is key to a business' survival. It's the perfect way to meet your target market. Using digital marketing, a relatively limited marketing budget will touch many customers. Unlike conventional approaches, you can assess digital marketing strategy effectiveness using analytical tools. Even more advertisers set conventional marketing aside and concentrate on this strategy. Successful marketing strategies can be achieved by incorporating conventional approaches with digital marketing.
Popular Digital Marketing Methods 
Email Marketing
This is one of the growing online marketing methods. Email marketing promotes corporate connectivity, productivity and eco-friendliness. Using this process, electronic mail may be sent to a group of people.
It's an easy way to remain linked to your audience when promoting your company and one of the best ways to meet your target market.
Search Engine Optimization – SEO
It's an organic way to refine your online content to boost your website's search engine ranking.
A website's ranking includes several considerations such as title, keywords, content, etc. SEO helps make the site available and boost the search engine's chances of being found. It's divided into two: on-page and off-page optimization. On page optimization is accomplished by careful distribution of keywords and on-site content quality. Off-page optimization requires variables outside the website's influence. The primary aim of building links is to get links from other websites to boost SEO.
Search Engine Marketing – SEM
SEM makes sure that your site appears at the top of the search engine results when someone looks for information or keyword. It uses different methods to help the search engine offer your site to web searchers.
Before using SEM, one must clearly understand SEO. It's one of the easiest ways to expand your business in this dynamic environment. Many of SEM's components are auction, bid, and price ranking. Your maximum bid for a high-quality keyword decides your ad position.
PPC
The quickest way to meet the target market can be done by PPC campaigns. Whenever anyone clicks your ad, you pay. For example, if you pay 1 rupee per click and 1000 people click your ad would cost 1000 rupees. Based on the CTR, the success of your ad campaign is decided. It works quicker by reaching the right people at the right time and location. Since it costs money, it's perfect for companies selling products/services.
Social Media Marketing
Digital media marketing is known as social media marketing across multiple social networking sites including Facebook, Twitter, and Instagram. SMM's primary aim is to create content on social media that helps a company to maximize its brand recognition and consumer reach. Tech companies can exchange content to achieve marketing objectives.
Display Advertisement
It is a way to connect to the target market through elements such as images, logos, graphics, audio or video. Identified as banner advertising, it provides a rare opportunity to re-target the perfect audience. You can also view advertisements based on your search behavior. Usually, display advertisements are used alongside search engines like yahoo, bing and google.
Content Marketing
Its form of marketing which is achieved by developing and distributing free content to draw new prospects and maintain current customers. Informative content is shared in blogs, images, infographics etc. It helps create good relationships with your audience by delivering appropriate, high-quality material. Your market goal will fit with a content strategy for critical performance.
Why can digital marketing help fresher?
In the modern world, online marketing is important for effective business. Today, marketing people are moving from conventional to digital approach.
Digital marketing skills are in high demand, offering a unique competitive edge for one's profession. It provides fantastic opportunities worldwide. There is a broad variety of digital marketing positions, including social media marketers. This also offers opportunities to launch your own career as an Entrepreneur. Digital marketing practitioners should look forward to many benefits in coming years. More businesses adopt digital media as their main marketing tool, generating more work prospects for freshers. Digital marketing's future now looks really optimistic.